How Much Does Local SEO Cost?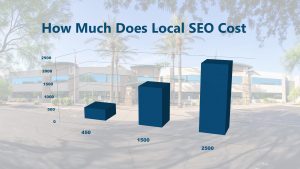 On average local SEO costs about $1,500. Local SEO costs range from $450 to $2,500 for the US in 2019.
The question "How much does local SEO cost" is probably better stated as "What is the value of local SEO?" The key to measuring that value is knowing how it works, what benefits it can give you, and the impact that your choice of an SEO provider can have on costs and better yet, on results.
The average local SEO campaigns we presently build for our clients range from $450 to $5,000 per month for a single brick-and-mortar location. Some of the factors that influence pricing are:
Citations: Listing your business and its various locations in the top 40+ online directories is an essential local SEO strategy. You could possibly need up to 100 citations, depending on the industry your business is in. Running and taking care of citations may cost $50 to $150 per month.
Local Links: Building reliable links back to your site is another key local SEO fundamental. A beneficial SEO campaign may need a budget of $500 to $1,500 a month just for link development.
Locations: There are benefits to be had if you have a single website with multiple business locations, but there are still basic continual costs for managing multi-location local SEO campaigns. You can expect to budget $750 to $2,500 per month, for each location.
So, what should you budget for local SEO?
It depends, as it's based on the particulars mentioned above and more. If your success depends on the speed and ease with which prospective customers can find you online (including mobile devices, when they're most likely to be making fast decisions), then you can't afford to not have a budget for local SEO. Learn as much as you possibly can about your key audience and their mannerisms, which should help you decide how much of your general advertising and marketing budget you should put toward a local SEO campaign.
Bear in mind that the old adage "you get what you pay for" holds particularly true for online marketing. A $500 a month budget will get you very little in the means of SEO, so you probably won't see much in returns. You may not have to spend $5,000, either, unless you have a lot of locations. Here's more information on typical price ranges for our local SEO campaigns.
The best thing to do is to talk with several local SEO providers about what they can do for your business and what they've done for others. Great results will usually speak for themselves.
Free SEO Consultation Scottsdale
For a Free SEO consultation in the Scottsdale, Phoenix, Tempe, or Mesa, Arizona areas, contact WebTechs.Net today.