Pool Care

SEO Case Study
1,060% Increase in Organic Traffic

Pool Care Company In Gilbert, AZ sees 1,060% increase in traffic since June 2021, all from Google Organic search.

BEFORE SEO OPTIMIZATION: 
Getting a very small amount of traffic only for their business name
Organic traffic was only 22 per month in previous 5 months
Clicks per day: Under 1
Organic Traffic value per month: $427
Organic Traffic value per day: $14
AFTER SEO OPTIMIZATION: 
Organic Traffic value per month: $2,900
Organic Traffic per day: 118 clicks per day
Gets over $2,900 worth of PPC traffic all from organic search
$0 PPC have been spent on this account
A 1,060% increase in SEO traffic over the past month+
BACKGROUND
This pool care company came to us in September 2020 with a focus on providing pool services in the East Valley (Phoenix, Ahwatukee, Tempe, Mesa, Chandler and Gilbert, AZ). They did not have a previous SEO strategy in place, but did have a website that was getting light traffic. Traffic for this website was averaging about 22 visitors per month.
SEO KEYWORD RESEARCH
We researched the keywords for this industry to find that many people were searching for pool care in their specific area. For example, a lot of users search for "Pool Services Phoenix" or "Gilbert Pool". We found an opportunity with the keyword phrase "Pool Prices AZ", then created a post from the phrase, which is now worth $904 in monthly traffic value.
COMPETITION
When we took over the site, we had to compete with multiple local pool suppliers battling for customers all over the East Valley.
THE SEO SOLUTION
After analyzing the competition, we knew that page/post creation (content writing) was going to be huge for this industry. We did research to identify the top keywords and created posts to rank highly/create traffic for these searches.
THE SEO RESULTS
Since implementing SEO across this client's website, these efforts have helped drive significant increases in search engine visibility and sales, including the following:
A 1,060% increase in SEO traffic since June 2021
Total Impressions per month: 148,000+
Organic Traffic per month: Boosted organic clicks to over 3,530 clicks per month
Organic Traffic per day: 118 clicks per day
Gets over $2,900 worth of PPC traffic all from organic search
$0 PPC have been spent on this account

SEO PACKAGE
This client signed up for the Deluxe SEO package in September 2020. The long-term SEO strategy worked quickly, as you can see from the data in the graph. The Deluxe package now brings this client $2,900+ in PPC traffic and they only pay us $750 per month.
MORE ANALYTICS
The pool service site is now averaging 927 visitors per month since our SEO services began. They are now ranking for over 1,100 keywords, including valuable phrases such as "Pool Service Gilbert", "Pool Cleaning Service Gilbert AZ", and "Pools In Phoenix". Several posts have held coveted featured snippet positions, as well. Deluxe SEO package was used in this example.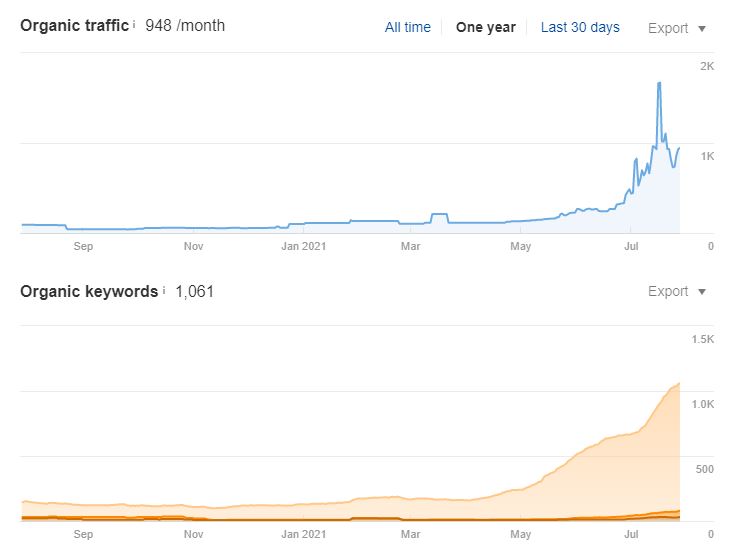 INCREASED IMPRESSIONS AND CLICKS IN GOOGLE SEARCH CONSOLE
We got this client's blog posts to rank nationally and drive thousands of clicks to his site per month. Just in the past six months, the site has received over 321,000 impressions and 4,460 clicks.

WE CREATE SALES FUNNELS TOO!
As you can see below, we are going after all types of keywords that could create a sales funnel to our client's site. We don't just go for "Pool + Location" keywords, we are going after everything their potential customers are searching for. As you can see, the sales funnel starts as soon as the customer has a question or problem. They start by looking for the answer online. For example, as you can see below, this client's customers have searched for things like "How To Clean A Green Pool" and "How Much Does A Pool Cost In AZ". A quick google search later and they find the post we created. This creates a ton of traffic for the client and a good amount of these searches actually turn into leads as well.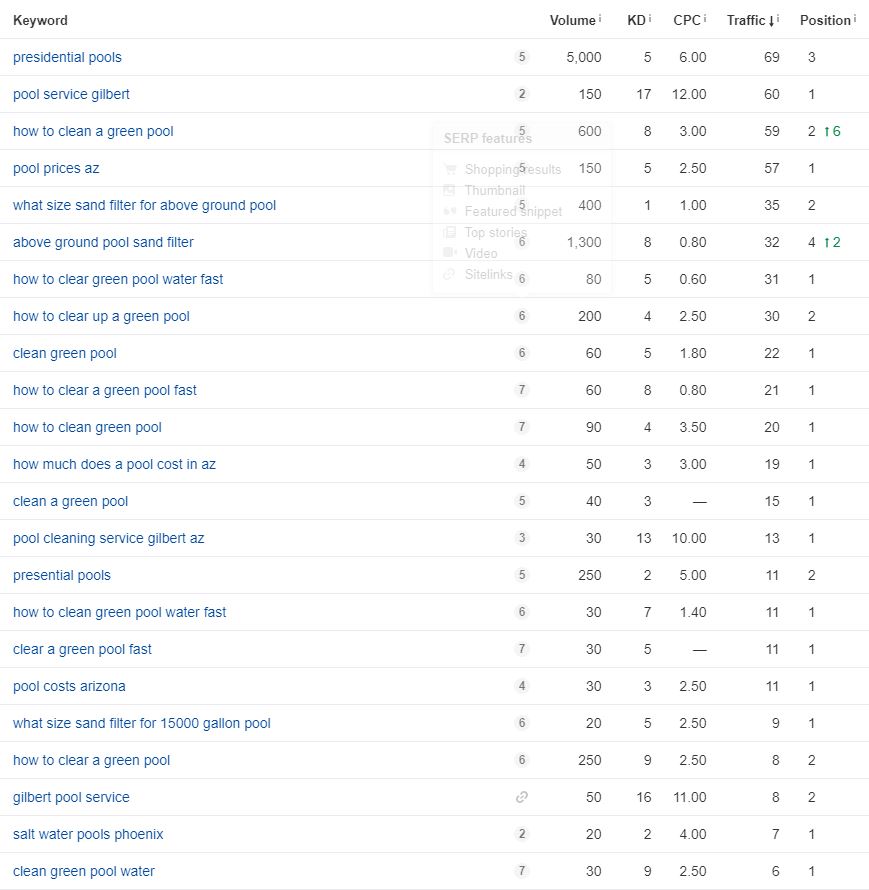 WEBTECHS.NET OFFERS POOL CARE SEO SERVICES IN SCOTTSDALE, ARIZONA
If you are looking for SEO Services in Scottsdale, Arizona or surrounding areas, give Webtechs.net a call today to learn more about how we can help you drive new traffic and get more leads through organic SEO services.