EXPERT SEO SERVICES THAT "ACTUALLY WORK"
If you are searching for "SEO Services Phoenix", "Phoenix SEO Company", or "Search Engine Optimization Phoenix", WebTechs.Net can help! We are a full-service digital marketing agency offering safe, effective and affordable SEO services to Phoenix, Arizona businesses of all types.
We perform SEO services for all types of businesses including: Contractor SEO, cleaning company SEO, roofing SEO, plumber SEO and more. We currently work with 100's of clients all over the Phoenix Valley area including: Phoenix, Tucson, Mesa, Chandler, Scottsdale, Glendale, Gilbert, Tempe, Peoria, Surprise and more. With the right SEO company you can easily gain new sales and leads to increase your revenue.
SEO KEYWORD RESEARCH
Our Phoenix SEO team has performed keyword research for 1000's of websites and 100's of different business industries. Local keyword research is our specialty but we have many sites ranking nationally for highly competitive keywords in the HVAC, contracting, e-commerce, garage door repair industries and more. We know the right words to choose based on 20+ years of experience in the web industry.
ON-SITE SEO OPTIMIZATION
On-Site SEO is where we truly shine! We've performed tons of experiments to find the right page format that Google loves. However, we discovered that there's no "1 answer" to every page or post. Depending on the intent of searcher and the keyword searched for, Google shows different results to serve the end user in the best way possible. There is no guessing game when it comes to our on-page optimization.
OFF-SITE SEO OPTIMIZATION
Off-Site SEO Optimization includes creating citations/business listings at other popular places like Yelp and Facebook to increase your online presence even more. The more business listings you have pointing to your website, the better chance you have of ranking over your competitors. We know which business listings to create and which ones is a waste of time. Citations are import for a proper local SEO strategy.
Google Maps, also known as Google My Business, is the best place to market your small business; or any business to state it more clearly. People trust Google to point them in the right direction when they are looking for products and services near them. Optimizing your listing, setting your service area properly and listing out your products/services is very important to get your listing ranking in the top 3 spots.
SAFE LINK BUILDING
Link building is actually not a huge part of our strategies. We have seen so many people lose rankings due to bad link building that we've learned to increase rankings almost without it entirely. We do build citations so those could count as links but other than that it's our content strategies and on-page SEO that increasing our client's rankings like wild fire and making their phone ring more than ever.
Our content writing skills just keep getting better. The longer we do this, the more we learn what types of content Google loves the most. Google is looking for certain trigger to help them understand your website better. The more Google understands your website, the more confident they will be at ranking you. We have analyzed thousands of pages to discover the right way to create content for Google.
BEST RANKING REPORTS
Our ranking reports can track up to 100 keywords and update weekly automatically. With a simple click of a link you can view your ranking increases from week to week. Our ranking reports are always updating so there is nowhere for us to hide. We are completely transparent with rankings because we know what we do "works"! Our ranking reports are even viewable on mobile devices for quick access.
SEO for voice search is becoming very popular as more and more people are starting to use their mobile devices instead of a computer. The most common phrase is "near me". If you are not optimized for this keyword you will never be found in organic search or maps listings. We've optimized 100's of websites for Google voice search and know which near me keywords your customers are searching for.
REVIEWS ABOUT

OUR SEO SERVICES
Learn why our clients call us the Best SEO Company in Phoenix!
I have been working with WebTechs for seventeen years, and I have always had great service. Darren, my sales rep and Tim, the tech have been AWESOME…  They both do a great job of keeping me informed on changes that need to be made, so my site always stays at the TOP. Thanks
I had problems how to promote my business, since I started working with WebTechs, I get more phone call and my website became visible, everyday I get more and more business. They are a great team knowledgeable, they know what are they doing and very very friendly. They ROCK, specifically ERICK!! Highly recommended
I started doing business with WebTechs 7 years ago when they built my website. The website is phenomenal and the customer service has been second to none. When I have questions, the are easy to contact and always have answers right away. I started doing SEO with them over two years ago and I'm so happy with the results! I am getting a lot of leads from Google now. I didn't understand SEO very well and they took their time to explain it to me in layman's terms. I highly recommend WebTechs for website building and SEO.
RANK ON THE

1ST PAGE OF GOOGLE
And not just the first page… The TOP 3 spots!!
We would love to help your website rank on the first page of Google search so you can generate more leads/sales and increase revenue.
You the consumer, when looking just now for a Phoenix SEO Company, you most likely found this page by the power of (SEO) search engine optimization. Simply stated, we found people were searching for "SEO Services Phoenix", built a webpage on our website and optimized it for that exact keyword. Phoenix, Arizona is the 5th largest city in the US. "Phoenix SEO Experts" is one of the most challenging keywords to rank for in the Southwest. If we can rank for difficult keywords such as these, imagine what we can do for you.
We are the best Phoenix SEO Agency because we put in the work. We don't just optimize your listing and then forget about it. We build many pages in your website for every product and service you have to ensure that not only your business listing ranks when someone searches for products or services like you sell but we make your webpages rank organically as well right below the maps. That gives you double the chance of getting clicked. Plus, Google knows when we add pages and will even add a little phrase to your business listing that says "mentions product or service".
We pride ourselves on being more than a search engine optimization firm but a search engine marketing firm. We help clients market their business online and get found through organic search engine optimization. We have clients that have been with us since 1998.
REAL SEO RESULTS

FROM REAL CLIENTS
These snapshots were taken 12/18/2018. These are real SEO results from a couple of our current SEO customers.
SEO Case Study 1 – Automotive SEO
Automotive client increased traffic form 87 visits to 3,000+ visits per day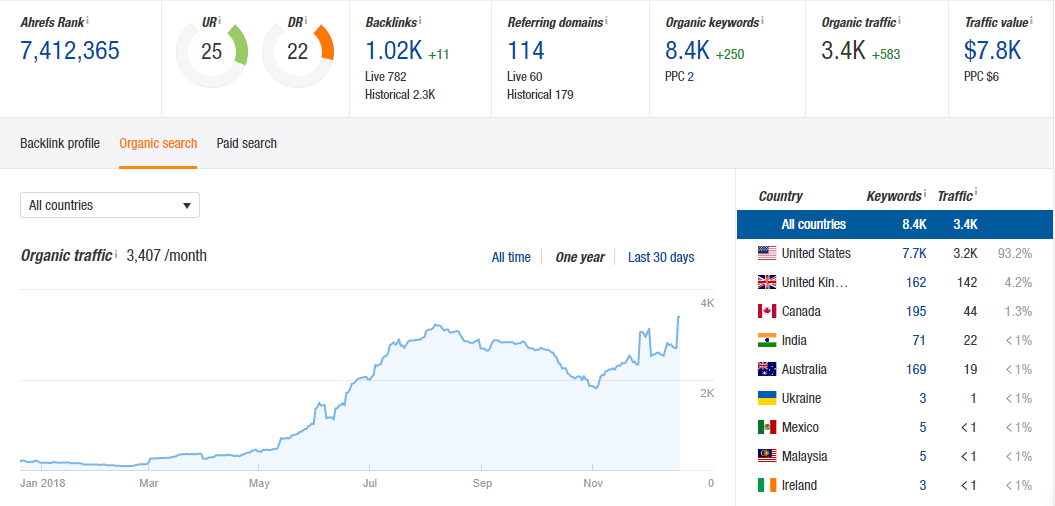 Increased Website Visits, Call & Leads
Here is a snapshot of the insights section of our Auto repair client's Google business listing. As you can see, not only does this client get traffic to his Auto Repair website but that traffic turns into calls/leads/sales.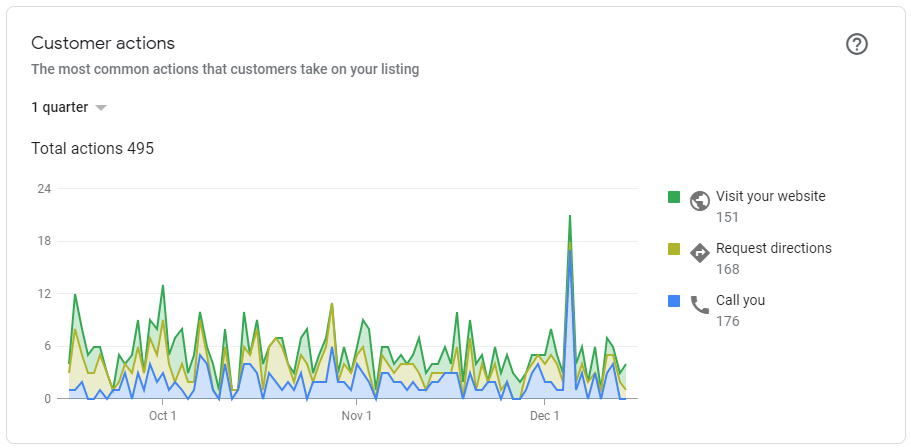 SEO Case Study 2 – Roofer SEO
Roofing client increased traffic form 61 visits a day to 1,000+ visits per day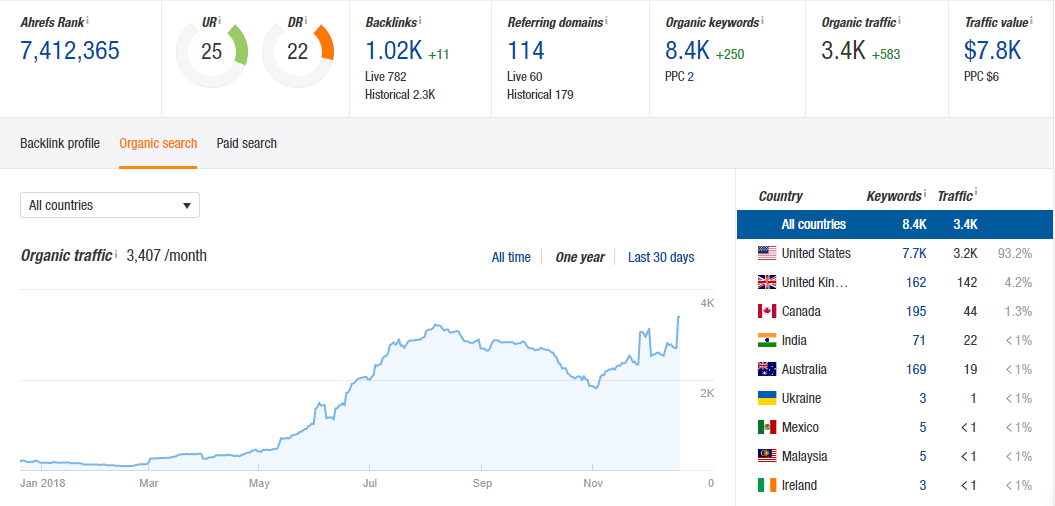 Increased Website Visits, Call & Leads
Here is a snapshot of the insights section of our Roofing client's Google business listing. As you can see, not only does this client get traffic to her Roofing Repair site but that traffic turns into calls/leads/sales.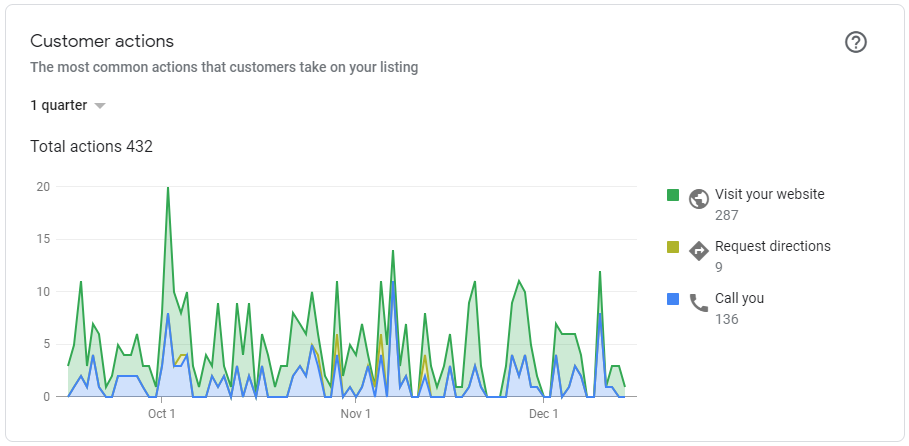 WE EARN

FEATURED SNIPPETS
Our clients not only rank #1 in Phoenix but they also show up for featured snippets.
Google doesn't just give these featured positions away they only give that spot to the web page they feel is the best possible match for the end user. We've earned thousands of featured snippets over the years for many different industries and rank our clients nationally for many common phrases related to their business.