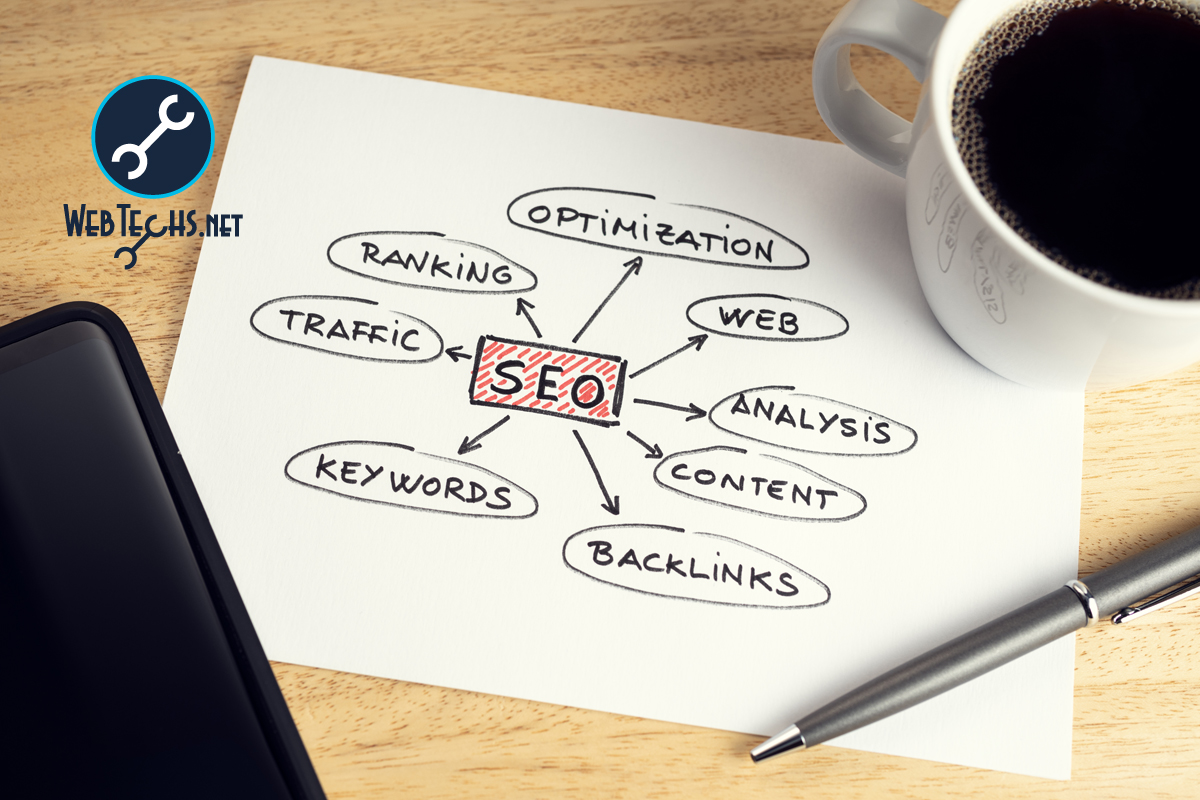 Small and large businesses in Scottsdale, Arizona continue to invest in Search Engine Optimization Services. Before choosing an SEO package, though, all companies should know exactly what an SEO service is, what it costs, and what it includes.
What Are SEO Services?
SEO services are offered by SEO companies/agencies to help your business flourish in search engine optimization. Successful SEO campaigns will increase your visibility on popular search engines like Google and Bing, among others. SEO companies will specifically focus their efforts on search results directly related to your products, services, or industry.
For example, if you own a car dealership in Scottsdale, SEO services will help you rank on Google for your desired goals. These companies will strategize to get you to the top of Google for searches like "auto sales scottsdale" or "hybrid cars for sale in scottsdale." Since search engines like Google rely on upwards of 200 factors to determine rankings, years of SEO expertise are vital to launch a successful SEO campaign.
What Do Affordable SEO Services Include?
Local and affordable SEO packages should include all of the following:
SEO Audit
Custom Strategy
Competitor Evaluation
On-Page Optimization
Off-Page Optimization
Monthly SEO Reports
Any SEO service that you invest in should include an SEO audit as the first order of business. An SEO audit is an in-depth look at your current online strategy. SEO companies will generally evaluate your website even if there is no SEO strategy currently in place. Yes, there are free audit tools found online, but these tools will not provide the type of insight you can get from a team of SEO specialists. A successful SEO audit will determine the best possible strategies for your brand.
Designing and implementing a custom strategy is the biggest reason why so many companies opt for SEO services. When the strategy is created specifically for your brand, it can lead to increased exposure online, calls, orders and, of course, sales. Get the maximum return on investment (ROI) with a custom SEO strategy.
Competitor evaluation is a necessity in every industry. Discovering exactly what your competitors are doing online will help you build an SEO strategy that's effective and efficient. Constantly monitoring competitor's strengths and weakness will help an SEO company take advantage of openings or opportunities for rankings.
On-page optimization enhances your website's features for search engines. Examples of on-page optimization include updating title tags, meta descriptions and H-tags for search results. This also includes executing any redirects and optimizing images featured within your site. Off-page optimization, meanwhile, maximizes factors outside the site to improve rankings. Off-page tasks include building your backlink profile and optimizing Google My Business profiles.
SEO services must be transparent with all customers. This is why you should only invest in an SEO company that will send monthly reports directly to you. These reports will detail and highlight the results of the SEO strategies.
A monthly SEO report should include the following:
Your Website's Organic Traffic
Search-Result Rankings
Conversion Rate
And More!

Why Invest In SEO Services?
These are the two biggest reasons why so many businesses are choosing to pay for SEO services:
1. SEO Helps You Build Brand Awareness.
2. SEO Can Lead To Long-Term Success.
To put it simply, SEO is an all-around marketing tool. SEO is geared toward building the authority of your site and constantly spreading brand awareness to users and/or potential consumers. Understanding how to balance what works for Google, while also creating user-friendly content is vital today. SEO services will key in on a target audience in an effort to satisfy both the needs of your users and Google's latest algorithms. Knowing how to reach an audience and produce results via Google are two important steps, but creating quality content that distinguishes itself is where the true challenge lies.
Right now, nearly every site produces content, but only a select few can actually capitalize on that. SEO professionals understand how to make the best of both worlds by using proven tools and methods to meet goals of local businesses. By creating a content strategy based on extensive keyword research, experienced SEO experts can help you build a stronger brand.
Secondly, you want any success you have to last for the long term. Your business is your livelihood, and it's our duty to help your business grow, continually. Ranking number one on Google for any query will undoubtedly create consistent traffic to your site. To attain that goal, SEO experts will need to put in work; a lot of it. Combining  a focus on long-tail keywords, locally-relevant and engaging content takes a lot of time and experience. Together, though, we can perfect our SEO strategies and get your business recognized and respected for the long run.
Local SEO Company In Scottsdale
If you are searching for "scottsdale seo", "scottsdale seo company", or "seo scottsdale", look no further than WebTechs. Net. For over 23 years, WebTechs has been providing safe, effective and affordable SEO services across the valley of the sun. WebTechs currently works with hundreds of clients across the valley, implementing top-notch SEO strategies for various industries.
Let our SEO experts optimize your website, leading to an increase in leads, sales, and traffic value. We understand the importance of your web presence when it comes to marketing locally. We offer everything from basic local SEO services, all the way up to advanced multi-page SEO services. These services may include site & content optimization, creating and maintaining your business presence on social networks, video marketing & optimization, & much more.
Take a look at one of our current SEO clients' website below: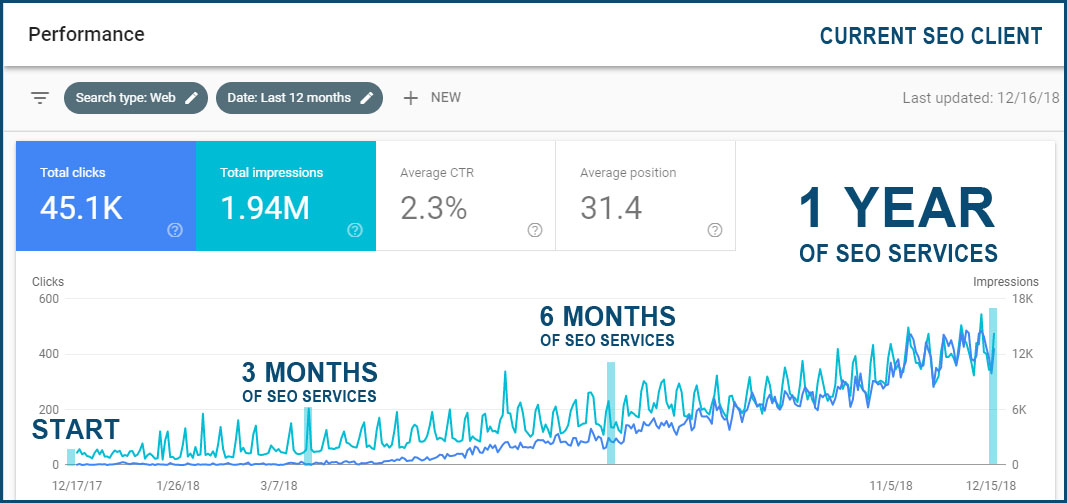 Contact WebTechs.Net for a free SEO consultation right here!
How Much Does SEO Cost In Scottsdale?
Local SEO costs can vary based on the package purchased. For example, WebTechs.net in Scottsdale typically charges between $450–$5,000 for a single brick-and-mortar location, per month. Of course, the value SEO can provide your business can make this an extremely cost-effective option, especially when compared to other marketing packages.
Here are some of the factors that can influence cost of SEO services:
1. Local Links: A potentially successful SEO campaign could pay as little as $500 per month for link development. Building a stable of reliable links sent back to your site is crucial for SEO development.
2. Citations: In order to list your business within the top 40 online directories, you may need up to 100 citations, depending on the industry. Finding your company in the top 40 is essential for local SEO strategies. Taking care of these citations can cost $50–$150, per month.
3. Location(s): There are certainly benefits to having multiple business locations with only a single website. But, there are still continual costs for management of multi-location SEO campaigns. Companies should expect to budget $750–$2,500 for each location, per month.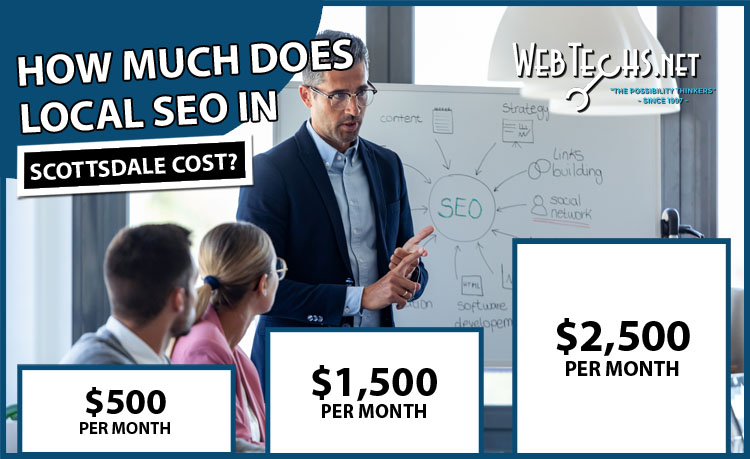 Free SEO Consultation In Scottsdale
For a Free SEO consultation in Scottsdale, Phoenix, Tempe, or Mesa, Arizona areas, contact WebTechs.Net today.