How Much Does SEO Cost In Scottsdale?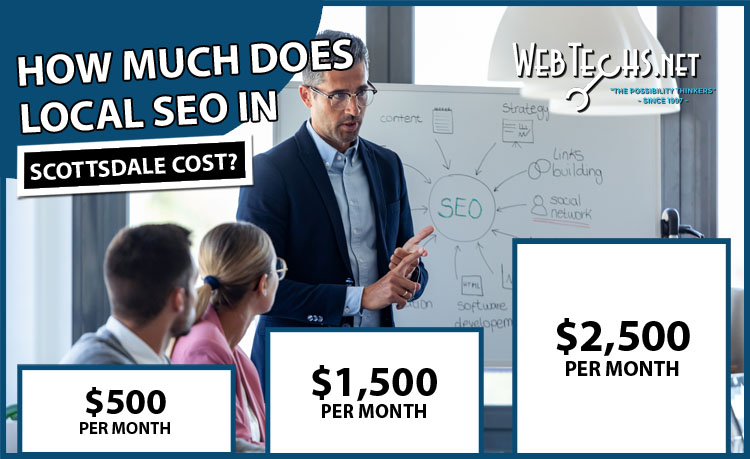 SEO services in Scottsdale, Arizona cost an average of $1,500, with a typical range of $450–$2,500 in 2021. Let us provide a few reasons why SEO (search engine optimization) services are a necessity for big and small businesses across the valley of the sun.
SEO Costs
Local SEO costs can vary based on the package purchased. For example, WebTechs.net in Scottsdale typically charges between $450–$5,000 for a single brick-and-mortar location, per month. Of course, the value SEO can provide your business can make this an extremely cost-effective option, especially when compared to other marketing packages.
Here are some of the factors that can influence cost of SEO services:
1. Local links: A potentially successful SEO campaign could pay as little as $500 per month for link development. Building a stable of reliable links sent back to your site is crucial for SEO development.
2. Citations: In order to list your business within the top 40 online directories, you may need up to 100 citations, depending on the industry. Finding your company in the top 40 is essential for local SEO strategies. Taking care of these citations can cost $50–$150, per month.
3. Location(s): There are certainly benefits to having multiple business locations with only a single website. But, there are still continual costs for management of multi-location SEO campaigns. Companies should expect to budget $750–$2,500 for each location, per month.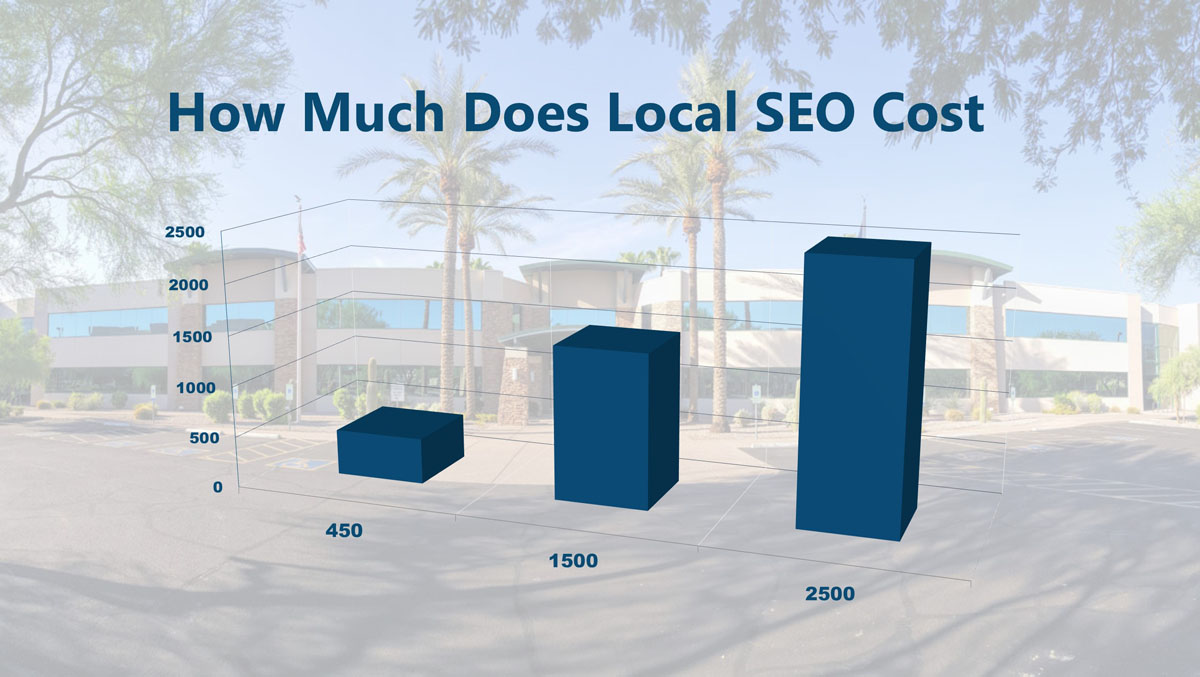 Why Invest In Local SEO Services?
These are the two biggest reasons why so many small businesses are choosing to pay for SEO services:
1. SEO helps you build brand awareness.
2. SEO can lead to long-term success.
To put it simply, SEO is an all-around marketing tool. SEO is geared toward building the authority of your site and constantly spreading brand awareness to users and/or potential consumers. Understanding how to balance what works for Google, while also creating user-friendly content is vital today. SEO services will key in on a target audience in an effort to satisfy both the needs of your users and satisfy Google's latest algorithms. Knowing how to reach an audience and produce results via Google are two important steps, but creating quality content that distinguishes itself is where the true challenge lies.
Right now nearly every site produces content, but only a select few can actually capitalize on that. SEO professionals understand how to make the best of both worlds by using proven tools and methods to meet goals of local businesses. By creating a content strategy based on extensive keyword research, experienced SEO experts can help you build a stronger brand.
Just take a look at some of the results SEO-driven techniques have produced for WebTechs in Scottsdale right here.
Secondly, you want any success you have to last for the long term. Your business is your livelihood, and it's our duty to help your business grow, continually. Ranking number one on Google for any query will undoubtedly create consistent traffic to your site. To attain that goal, SEO experts will need to put in work; a lot of it. Combining  a focus on long-tail keywords, locally-relevant and engaging content takes a lot of time and experience. Together, though, we can perfect our SEO strategies and get your business recognized and respected for the long run.
How Much Should I Pay For SEO?
The natural question for any business beginning a venture to SEO is how much they should budget for these services? Learn as much as you possibly can about your target audience before determining a budget. Fully understanding your audience will help you decide how much of your advertising/marketing budget should be put towards an SEO campaign. For instance, if your business relies on speed at which you are found online, then SEO services may not be best for your company's needs at the moment.
Spending the minimum of $500 of a monthly budget on SEO may yield miniscule results. This doesn't mean, however, that you'll have to pay upwards of $5,000 per month. Generally, only companies with multiple locations and/or websites will actually pay this amount. Most typical SEO plans are priced between these two figures.
At WebTechs, there are a variety of SEO packages designed to suit the needs of any local business. Whether you desire local SEO, Google Maps SEO Marketing or even Content Writing Services, we are here to help! Learn more about all SEO campaigns right here.
Contact the SEO experts at WebTechs by clicking here.
Free SEO Consultation In Scottsdale
For a Free SEO consultation in Scottsdale, Phoenix, Tempe, or Mesa, Arizona areas, contact WebTechs.Net today.